Bayonetta is a series of 3D hack and slash adventure games released in 2009. There's been two main games, Bayonetta and Bayonetta 2, and a series of side games, and plans for a sequel, Bayonetta 3.
The game was released in 2009 for the Xbox 360 and PlayStation 3 and is available to play on Wii U, PlayStation 4, and Nintendo Switch. Bayonetta 2 was released simultaneously in the US and Japan in 2014 on the Wii U, along with a version of the original. Both games debuted on the Nintendo Switch in February 2018, and a remastered version was released for Windows in 2017. 
Bayonetta was made a playable character for the Super Smash Brothers series for the Nintendo 3DS and Wii U in 2015, and appears in Super Smash Brothers Ultimate for the Nintendo Switch. 
The amiibo figure was released by Nintendo in July 2017, featuring the Umbran Witch striding forward in a confident pose, cobalt-blue guns strapped to her heels and hands, arms raised and poised to throw some bullets toward her combatant. She's compatible with her own game, of course, as well as some popular titles like Dark Souls, Skyrim, Super Smash Bros., and the Legend of Zelda: Breath of the Wild. 
In Bayonetta 2, scanning an amiibo can give you special Nintendo costumes (like Princess Peach or Samus). The Super Smash Bros. Bayonetta amiibo allows you access to all the bonus costumes.
Gameplay
The game has a combat system similar to director Hideki Kamiya's Devil May Cry, and a rating system that assigns a grade based on how well you fight and smite.  You navigate the game as Bayonetta, stylishly executing many different attacks, including slowing down time, hand-to-hand combat and stylish acrobatics, and no shortage of melee attacks. 
And weapons. Lots and lots of weapons, including the guns on her heels. The sequel, Bayonetta 2, included online and local wireless battle capabilities as well as the ability to execute the Umbran Climax: the ability to summon demons to annihilate your enemies. 
Story
Bayonetta
A sexy, shapeshifting, gunslinging witch awakens suddenly after a 500-year sleep with absolutely no idea who she is. As the game unfolds, she slowly remembers her origins: she was raised as the black sheep of a witch family after her existence was discovered. 
500 years ago, in the town of Vigrid, there were two factions: the Lumen Sages and the Umbra Witches each held a pair of treasures called the Eyes of the World. The Lumen Sages were given the Right Eye, and the Umbra Witches were given the Left Eye. Were these treasures to be joined, it would resurrect Jubileas, an ancient god bent on destroying the old world and making it anew.
Bayonetta's journey involves finding the Right Eye in hopes it will give her answers to her past. 
Bayonetta 2
Bayonetta 2 answers all those questions and more, when her John's capture by one of her demons leads her to journey into the underworld, known as Inferno. She meets some mysterious child named Loki along the way, who offers her access into Inferno in exchange for protection from the angels. 
Loki opens the entry into Inferno and Bayonetta encounters a masked Lumen Sage who is revealed to be her father who has time-traveled into the future. Loki then sends them back 500 years in the past and it is revealed that he was not responsible for Bayonetta's mother's death, but his evil counterpart Lopter was. 
Lopter attempts to merge with Loki in order to reform as the god Aseir, but Bayonetta's father stops him by absorbing Lopter's spirit into his own, even knowing that it will eventually corrupt him, telling Bayonetta that she must be the one to defeat him in the future as she does in the first game.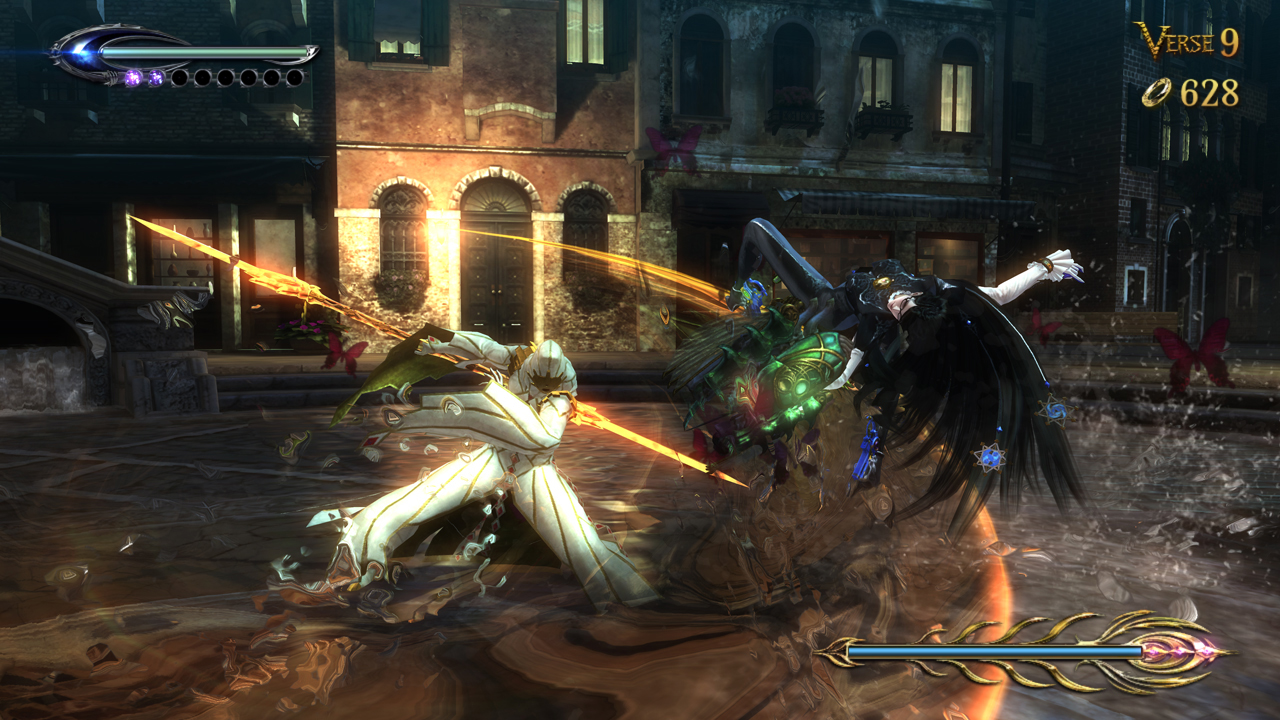 When Will Bayonetta 3 Arrive on the Nintendo Switch?
In the midst of a pandemic, fans are surely anxiously awaiting news about Bayonetta 3. The Nintendo Switch trailer was first unveiled at The Game Awards in Los Angeles in 2017, and fans have waited with bated breath ever since. 
Naturally, this has led some to wonder if Bayonetta 3 will ever see the light of day, or worse, has been canceled altogether. Fear not, says Bayonetta creator (and notorious twitter troll) Hideki Kamiya in his interview with Video Game Chronicles. Both he and the game's developer, Platinum Games, insist the game is still underway and ask fans to look forward to it!