In/Spectre's was one of the first anime we got in 2020, and the news of its sequel for Crunchyroll's original will be closing the year. In/Spectre's second season was announced by the streaming service on Twitter. The funny part is that it was actually Crunchyroll's German Twitter that broke the news first; the English account wouldn't make light of it until four hours later.
The news came out lavishly and we got what we expected: a trailer and a visual featuring the main characters Kotoko Iwanaga and Kuro Sakuragawa. We also got comments from the original light novel's author Kyo Shirodaira, the illustrator Kotoko Iwanaga, and Kotoko Iwanaga's voice actress Akari Kito. And as the cherry on top, we also got an illustration from the manga adaptation's illustrator Chabisa Katase, who delivered an adorable drawing of an excited Kotoko.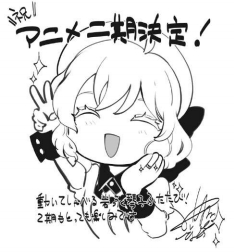 In/Spectre was pretty hyped when it was first announced back in January 2019, and it maintained that status when it came out last winter (it comfortably sits at no. 4 on AniChart's Winter 2020 list). It's just one part of a string of anime released as part of the Crunchyroll Original line-up. Tower of God and The God of High School rocked the summer season; we currently got Noblesse and Tonikawa: Over The Moon With You for the fall; and we have So I'm A Spider So What and Ex-Arm making their big debuts in January.
We don't know when In/Spectre's second season will get its official release since the series is still in production. Considering how the news rolled in barely a year after the first season ended, we should expect something really soon.
In/Spectre's first season is available for your viewing pleasure over at Crunchyroll and VRV.