Ever since establishing his animation studio Science Saru in 2014, director Masaaki Yuasa has made quite the splash with movies like Night is Short, Walk On Girl and Lu Over the Wall, as well as his most recent made-for-Netflix television series Devilman Crybaby, a visceral retelling of Go Nagai's iconic manga series Devilman.
Easy and widespread access to Yuasa's works has positioned the director to undoubtedly be one of the most prominent creators in a generation, not even to mention the amazing quality his studio produces. We knew to expect a new announcement over the weekend as the "The World of Masaaki Yuasa" special exhibition is taking place at the Tokyo International Film Festival, but we weren't clued in exactly what to expect in terms of genre and mood. As it turns out, his new film is very loosely related to Lu Over the Wall in a singular element, according to the director's own words.
The title is Kimo to, Nami ni Noretara, which could be translated to something like "If I Could Ride the Waves With You," though an official English title has not been finalized.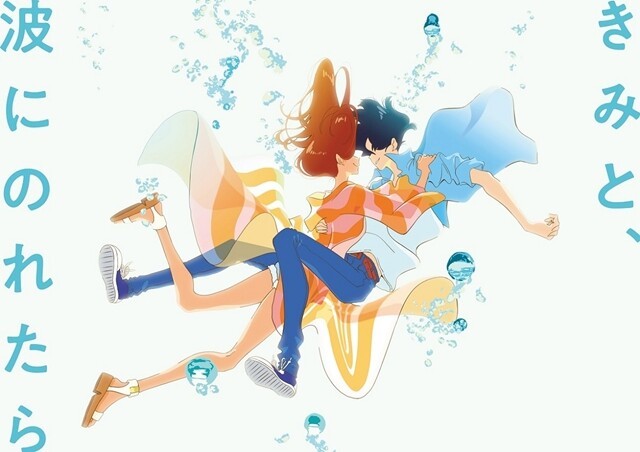 As is apparent from the title and the movie's key artwork, the film holds the ocean as a central theme. During the reveal, however, Yuasa shed some light on the story and the characters which are bound to introduce an interesting dynamic and contrast to the film. The woman is Hinako Mukaimizu, an avid surfer worried about her future. The guy though? He's a firefighter named Minato Hinageshi, and Yuasa says to expect a lot of stark contrast between water and fire in the movie. Luckily, the film's distributor TOHO is here to provide an official synopsis as well:
Upon entering university, Hinako moves to a coastal town. She loves surfing, and when she's on the waves she's fearless, but still feels uncertain about her future. When a fire wreaks havoc in the town, Hinako encounters young firefighter Minato. As they surf and spend more time together, Hinako feels drawn to someone like Minato who devotes himself to helping other people. Hinako also holds a special place in Minato's heart.
During the reveal, Yuasa mentioned that he has finished all the storyboarding and that they are now working on the animation. He did admit though the project is a little behind schedule, but that it is due to hit theaters in Japan sometime in the Summer of 2019. Finally, he also mentioned that he decided to make this film a love story partly due to the fact that Lu Over the Wall was not.
Details are certainly scarce, but you can be sure that we'll continue to provide all the latest on the film as the details ride the waves our way. With the Yuasa touch and hopefully another widespread release, I'd say we have another hit coming our way shortly.