Good news, sci-fi fans! The upcoming movie for the popular Knights of Sidonia series finally got a new trailer today, showcasing the intense mecha action Polygon Pictures is known and loved for. And this was over the top of an epically apocalyptic string of music composed by Shuji Katayama of Overlord fame.
Meanwhile, we were also introduced to four new characters, all complete with their all-star voice actors. Here we've got the no-nonsense Iroha Hashine played by Inori Minase (Gakkou Gurashi, Re: Zero), the talented Totaro Yamano played by Yuma Uchida (Grand Blue, BEASTARS), the brash Kairi Hamagata played by Yuto Uemura (Darling in the FRANXX, Bungo Stray Dogs), and the trainee Itsuki Hamna played by Miho Okasaki, (Slime tensei, Gundam Build Divers).
As the cherry on top, an announcement was made stating that movie tickets with 1/450 figures will be available for purchase starting 23 January. You can choose between a figure of Tsumugi Shiraui cloaked in white feathers, or a figure of the Tsugumori Custom 2.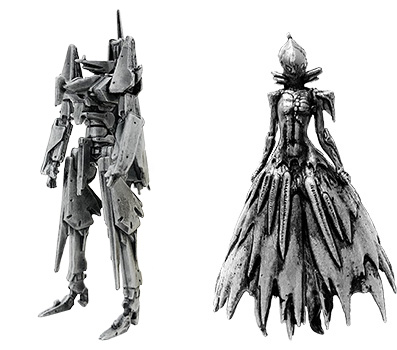 The Knights of Sidonia movie was announced back in July, featuring a trailer that indulged in the film's brand new storyline, which diverges from what was featured in Tsutomu Nihei's manga. A third season was teased back in 2016, but it seems that the movie is what we'll be getting for now. There are some of us who are still clinging onto hope, but I'm not sure that any Sidonia fans will be complaining if things fall through. So long as this movie has all the epic sci-fi action and drama the TV series has provided, a two-hour dose will be all Sidonia fans need.
The movie will be in theaters on 14 May.