There are few series that can boast more of a whirlwind success than Bkub Okawa's iconic Pop Team Epic franchise, and even fewer that can be adapted to so many mediums so successfully. From the massively-viral webcomics to serialization in Manga Life Win and eventually a globally renowned anime adaptation, Pop Team Epic rose beyond its subcultural origins and stuck it through all the way. But where did the series come from, and just how does a simple 4-panel manga like Pop Team Epic get adapted to anime? 
Lampooning the World in Just Four Panels
Originally known for his hugely popular Touhou doujin art, Bkub Okawa took Japan by storm in August 2014 when Manga Life Win began publishing his then-new 4-panel manga Pop Team Epic on their website. The series, which focused around the activities of two highschool-age girls Popuko and Pipimi, quickly gathered a cult-following domestically for its outrageous illustration style and unheard of takedowns on various aspects of popular culture. 
It took no time at all for Pop Team Epic to become a hit, and potentially even less time for international audiences to get their hands on it via fan-translated panels shared online. By early 2017 the series was already the talk of various communities across the globe, all stemming from the antics of these two girls shared across just four panels.
From 4-Panel Manga Series to Globally Acclaimed Anime
In April 2017 it was announced that Bkub Okawa's then-thriving Pop Team Epic series would be adapted into an original anime series. Given the popularity of the manga, it came as no surprise, but fans across the globe were left wondering just how these short strips would be converted into a full anime. Even more questionable was the fact that King Records, the company behind talents such as AKB48, would be the ones bringing the project to life. For a company like that to be handling a property that came to life to lampoon such groups, people were understandably worried — Fortunately, those fears found no ground upon release.
When Pop Team Epic began airing on January 7, 2018, the show rapidly became a global hit. It was no surprise given the already successful manga, but for many, the anime really took things to a whole new level. Animated by the team at Kamikaze Douga, Pop Team Epic's anime adaptation took the liberty of adapting the 4-panel format into short skits, with each part taking on a unique animation style and formatting. Each episode ran for a total of half an hour, which in reality was 15-minutes of content doubled, with the second showing featuring minor differences in animation and voice actors.
AC-bu's Out of This World Bob Epic Team Skits
You can't discuss the Pop Team Epic anime without bringing up AC-bu's out of this world Bob Epic Team skits. If the series didn't already have your head spinning from just how fourth-wall-breaking it was, then you were most definitely needing to take a seat as soon as you heard that horrid "Bobbunemimimi" at the start of an AC-bu skit.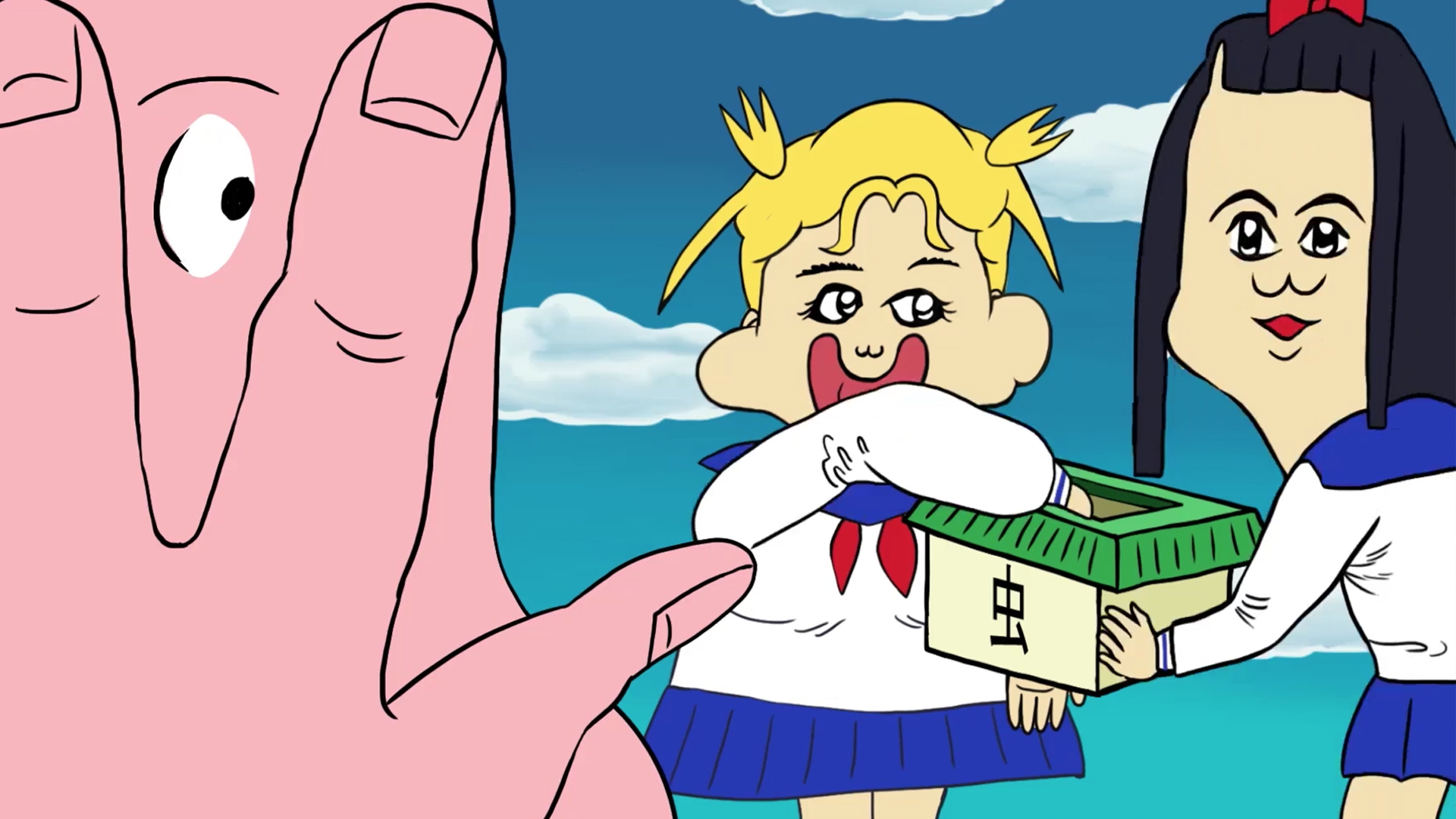 For a show that was essentially a giant lampoon of society to be lampooned within the confines of its own show, Bob Epic Team really goes above and beyond. It's a total departure from the series' usual animation, not that it sticks to anything in particular, featuring crude illustrations of Popuko and Pipimi, or Popu and Pipi, mashed with rancid voice acting that really hits all the right spots.
Breaking Down the Characters of Pop Team Epic
While both characters within the world of Pop Team Epic may seem extremely cute and innocent on the outside, it's their personality that really does them an injustice. From their iconic middle-finger pose to threatening to kill a flight attendant over the question of "Beef or Chicken?", these definitely aren't your average 14-year-old schoolgirls. 
Popuko
More often than not seen as the leader of the two, despite her official status, Popuko's character is defined by her short height and even shorter temper. Her iconic orange-blonde hair, always tied in buns, has become symbiotic for chaos, especially when coupled with her often-wielded nail bat weapon.
Pipimi
While the technical leader of the two, Pipimi's calm demeanor has, more often than not, saved the duo from a whole lot of trouble. Defined by her tall, slender height, especially in comparison to Popuko, and deep-blue hair, you can't let her general calmness put your guard down. Much like Popuko, Pipimi can cause a storm of chaos just because it's what she wishes.
So When Can We Expect Pop Team Epic Season 2?
While no second season of Pop Team Epic has officially been confirmed, one can only hope that we don't have to wait too long. With Bkub Okawa still actively working on the 4-panel manga series, which is currently in its fifth season, it's not impossible that King Records will want to pull on the strings of the series' success once more and renew the anime adaptation for another run. For now, though, we'll just have to wait but April 1, 2020, really isn't that far away, right?