We're now well beyond the 20th-anniversary of Konami's seminal rhythm game Dance Dance Revolution, and with the latest A20 version available in arcades across Japan, players have been able to enjoy a steady stream of new music. We've seen a number of returning long-time favorites over the past few months, but now we're set to get a number of new songs from some relatively fresh faces (comparatively) in the rhythm game music scene; Ujico*, TeddyLoid, TORIENA, and seiya-murai are all set to have their music added to the game on June 27.
The music comes during the third installment in the ongoing "Golden League" which has seen the in-game introduction of several top-performing songs, with the latest set to be Relect's "Give Me". The songs made available for this limited-event appear to be limited-unlocks, however, the aforementioned artists will be permanent additions to Dance Dance Revolution A20.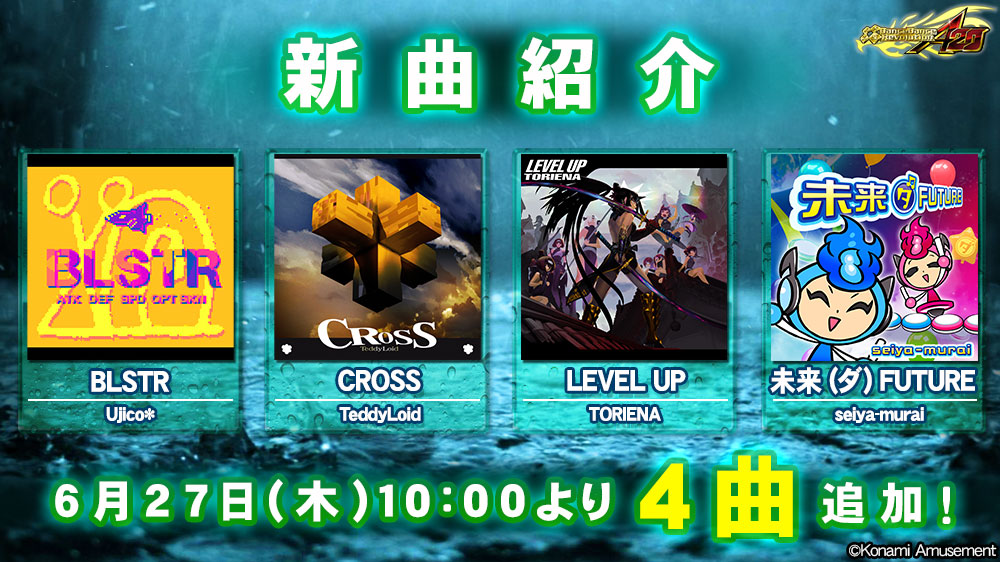 The songs being added to the game are as follows:
Ujico* – BLSTR
TeddyLoid – CROSS
TORIENA – LEVEL UP
seiya-murai – MIRAI DA FUTURE
These last few years have seen some genuine uptick in the amount of international attention shared for Dance Dance Revolution, largely backed by Konami's international expansion of the rhythm game genre via the likes of Round1 USA and Dave & Busters. In doing this, they've opened the floodgates for more people than ever before to access the incredible music and talent stored in these games. In saying this too, the inclusion of such a roster of musicians also allows pre-existing fans of the musicians to give the game a go if they're somehow yet to.
Set to release in Dance Dance Revolution A20 from June 27, I'm definitely excited to see just what Ujico*, TeddyLoid, TORIENA, seiya-murai, and if I can grind long enough, Relect have brought to the game in their latest works. For those interested in checking out further information, be sure to head over to Dance Dance Revolution's official website.